Articles | Volume 7, issue 4
https://doi.org/10.5194/se-7-1269-2016
© Author(s) 2016. This work is distributed under
the Creative Commons Attribution 3.0 License.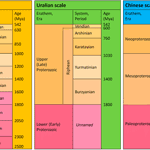 New data on geology of the Southern Urals: a concise summary of research after the period of EUROPROBE activity
Abstract. The period of official activity of the EUROPROBE commission was conducted in the Urals with implementation of the URALIDES program, which stimulated many qualified geologists from western research institutes and universities to come to the region and work with local geologists on topical problems of Uralian geology. The author aims to answer questions as to what interesting results have been obtained in the Southern Urals in the last decade, after most foreign researchers left the Urals, and how these results correspond to the scientific conclusions that had been reached before.
Received: 02 Apr 2016 – Discussion started: 12 May 2016 – Revised: 20 Jul 2016 – Accepted: 25 Jul 2016 – Published: 31 Aug 2016