Articles | Volume 9, issue 6
https://doi.org/10.5194/se-9-1375-2018
© Author(s) 2018. This work is distributed under
the Creative Commons Attribution 4.0 License.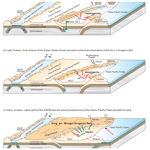 New insights on the early Mesozoic evolution of multiple tectonic regimes in the northeastern North China Craton from the detrital zircon provenance of sedimentary strata
Abstract. To investigate the timing of deposition and provenance of early Mesozoic strata in the northeastern North China Craton (NCC) and to understand the early Mesozoic paleotectonic evolution of the region, we combine stratigraphy, U–Pb zircon geochronology, and Hf isotopic analyses. Early Mesozoic strata include the Early Triassic Heisonggou, Late Triassic Changbai and Xiaoyingzi, and Early Jurassic Yihe formations. Detrital zircons in the Heisonggou Formation yield  ∼ 58 % Neoarchean to Paleoproterozoic ages and  ∼ 42 % Phanerozoic ages and were sourced from areas to the south and north of the basins within the NCC, respectively. This indicates that Early Triassic deposition was controlled primarily by the southward subduction of the Paleo-Asian oceanic plate beneath the NCC and collision between the NCC and the Yangtze Craton (YC). Approximately 88 % of the sediments within the Late Triassic Xiaoyingzi Formation were sourced from the NCC to the south, with the remaining  ∼ 12 % from the Xing'an–Mongolia Orogenic Belt (XMOB) to the north. This implies that Late Triassic deposition was related to the final closure of the Paleo-Asian Ocean during the Middle Triassic and the rapid exhumation of the Su–Lu Orogenic Belt between the NCC and YC. In contrast,  ∼ 88 % of sediments within the Early Jurassic Yihe Formation were sourced from the XMOB to the north, with the remaining  ∼ 12 % from the NCC to the south. We therefore infer that rapid uplift of the XMOB and the onset of the subduction of the Paleo-Pacific Plate beneath Eurasia occurred in the Early Jurassic.
Received: 26 Jul 2018 – Discussion started: 06 Aug 2018 – Revised: 09 Nov 2018 – Accepted: 16 Nov 2018 – Published: 29 Nov 2018