Articles | Volume 11, issue 3
https://doi.org/10.5194/se-11-959-2020
© Author(s) 2020. This work is distributed under
the Creative Commons Attribution 4.0 License.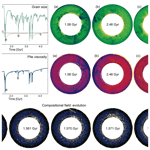 On the self-regulating effect of grain size evolution in mantle convection models: application to thermochemical piles
Seismic studies show two antipodal regions of lower shear velocity at the core–mantle boundary (CMB) called large low-shear-velocity provinces (LLSVPs). They are thought to be thermally and chemically distinct and therefore might have a different density and viscosity than the ambient mantle. Employing a composite rheology, using both diffusion and dislocation creep, we investigate the influence of grain size evolution on the dynamics of thermochemical piles in evolutionary geodynamic models. We consider a primordial layer and a time-dependent basalt production at the surface to dynamically form the present-day chemical heterogeneities, similar to earlier studies, e.g. by Nakagawa and Tackley (2014).
Our results show that, relative to the ambient mantle, grain size is higher inside the piles, but, due to the high temperature at the CMB, the viscosity is not remarkably different from ambient mantle viscosity. We further find that although the average viscosity of the detected piles is buffered by both grain size and temperature, the viscosity is influenced predominantly by grain size. In the ambient mantle, however, depending on the convection regime, viscosity can also be predominantly controlled by temperature.
All pile properties, except for temperature, show a self-regulating behaviour: although grain size and viscosity decrease when downwellings or overturns occur, these properties quickly recover and return to values prior to the downwelling. We compute the necessary recovery time and find that it takes approximately 400 Myr for the properties to recover after a resurfacing event. Extrapolating to Earth values, we estimate a much smaller recovery time.
We observe that dynamic recrystallisation counteracts grain growth inside the piles when downwellings form. Venus-type resurfacing episodes reduce the grain size in piles and ambient mantle to a few millimetres. More continuous mobile-lid-type downwellings limit the grain size to a centimetre. Consequently, we find that grain-size-dependent viscosity does not increase the resistance of thermochemical piles to downgoing slabs. Mostly, piles deform in grain-size-sensitive diffusion creep, but they are not stiff enough to counteract the force of downwellings. Hence, we conclude that the location of subduction zones could be responsible for the location and stability of the thermochemical piles of the Earth because of dynamic recrystallisation.
Received: 18 Oct 2019 – Discussion started: 30 Oct 2019 – Revised: 23 Apr 2020 – Accepted: 28 Apr 2020 – Published: 04 Jun 2020
Seismic studies show two antipodal regions of low shear velocity at the core–mantle boundary (CMB): one beneath the Pacific and one beneath parts of Africa and the Atlantic (Ritsema et al., 2011; Lekic et al., 2012; Garnero et al., 2016). These regions, called large low-shear-velocity provinces (LLSVPs), are thought to be thermally and chemically distinct and thus differ in density and viscosity from the surrounding material (Masters et al., 2000; Ishii and Tromp, 1999; Trampert et al., 2004).
The shape of LLSVPs is relatively well constrained thanks to seismic tomography models. They consistently reveal a roundish shape for the Pacific LLSVP and an overall north–south elongated form for the African LLSVP (Ritsema et al., 1999; Kuo et al., 2000). In total LLSVPs cover around 20 %–50 % of the area at the CMB (Burke et al., 2008; Garnero and McNamara, 2008) and make up roughly between 1.6 % and 2.4 % of the total mantle volume (Burke et al., 2008; Hernlund and Houser, 2008). The African LLSVP extends upward from the CMB about 1000 km; the height of the Pacific one is less well constrained but is in any case smaller with about 400–500 km of upward extension (Garnero and McNamara, 2008). Following Torsvik et al. (2006, 2010), LLSVPs have not changed their position for at least 200 Myr, possibly up to 540 Myr.
Apart from the geometry, other properties of LLSVPs are not that well defined. The negative correlation between bulk sound speed and shear wave velocity suggests a chemical origin (Masters et al., 2000; Trampert et al., 2004; Davaille et al., 2005) of LLSVPs. Normal-mode data support a density increase of a few percent compared to the ambient mantle (Ishii and Tromp, 1999; Trampert et al., 2004). Recently though, Koelemeijer et al. (2016) proposed that LLSVPs might rather have a reduced density. By analysing deep mantle-sensitive Stoneley-mode data in a joint P- and S-wave inversion, this recent work showed that LLSVPs, except for their roots, could have a decreased density of up to −0.88 % compared to the radial average. Chemical heterogeneities and the presence of post-perovskite (pPv) and its interplay with the thermal boundary layer could explain the observations.
Laboratory studies, e.g. by Davaille et al. (2005), are able to mimic the 3D complexity of LLSVPs and, as numerical models, provide insight into the development over time. Seismological studies, on the other hand, can only provide information on LLSVPs for the current time snapshot. Davaille et al. (2005) emphasised in their work that the presently observed upwellings might be all of transient nature and that all types such as plumes, LLSVPs, hot spots, superswells and traps might represent different stages of the same evolving thermochemical instability. Nevertheless, they also suggest that the upwellings are of different chemical composition.
In numerical studies, both a lower (e.g. McNamara and Zhong, 2005) and a higher viscosity (e.g. McNamara and Zhong, 2004) have been investigated. We learn from McNamara and Zhong (2004) that the viscosity contrast between different components could well be the main control on how the piles in the lowermost mantle are organised. In their study they find that an intrinsic viscosity increase of dense material in the bottom of the mantle yields fewer but larger piles than only a temperature-dependent rheology. However, most of the works on thermochemical piles have in common that viscosity is treated as depth dependent and/or temperature dependent.
Generally, only very few whole-Earth geodynamic studies have considered a composite or even grain-size-dependent viscosity (Hall and Parmentier, 2003; Solomatov, 2001; Solomatov and Reese, 2008; Dannberg et al., 2017). A study by Solomatov (2001) demonstrated that the physical laws behind grain growth in the lower mantle, such as volume diffusion or grain boundary diffusion, could strongly influence the thermal evolution of the Earth. Hall and Parmentier (2003) investigated the impact of grain size evolution on the onset time of small-scale convection to apply it to the upper mantle of the Earth. Solomatov and Reese (2008) first illustrated with convection simulations that the 660 km discontinuity strongly decreases the grain size, which tends to stabilise the viscosity profile. Obtaining a viscosity profile comparable to that of the Earth was not attempted. Dannberg et al. (2017) ran mantle convection simulations with a composite rheology and grain size evolution using rheological parameters obtained from a combination of laboratory experiments and trial and error. A realistic viscosity profile was obtained for the relatively short time span of their simulations (a few tens or hundreds of millions of years) using forced surface velocities. Dannberg et al. (2017) were thus able to study the effect of grain size evolution on physically observable characteristics of the mantle, but they did not attempt to self-consistently reproduce the convection regime of the Earth nor the existence of LLSVPs.
Although numerical modellers have by now included grain-size-dependent viscosity in several studies, the idea originates from experimentalists, who have shown how important it might be to consider grain size evolution in the viscosity formulation (Karato and Wu, 1993; Karato, 2010). In experiments they observe grain size reduction under high strain (e.g. Karato et al., 1993) and grain growth when conditions favour high grain boundary energy (Karato, 1989). In times of high stress and strain rate, dynamic recrystallisation operates, leading to a smaller grain size and shifting the deformation regime from dislocation to diffusion creep. As a result, regions under the influence of a high work rate exhibit a lower viscosity than the surrounding regions (Warren and Hirth, 2006).
Karato et al. (1995) suggest that most parts of the lower mantle likely deform under diffusion creep due to the absence of shear wave splitting. However, several other studies indicate that in many regions dislocation creep is active (Lay et al., 1998; McNamara et al., 2001). Poirier et al. (1983) and Cordier et al. (2004) suggested dislocation creep as the deforming mechanism for the perovskite phase in the uppermost lower mantle and McNamara et al. (2001) for regions around downwellings. Therefore, it would be worth not only considering grain-size-dependent diffusion creep but also a composite rheology formulation involving both diffusion and dislocation creep. Since dislocation creep is favoured when grain sizes are large, in the region along the CMB, hot upwellings and plumes might rather deform in dislocation creep because temperature and stresses are high (Solomatov and Moresi, 1996; Karato and Rubie, 1997; Solomatov et al., 2002; Korenaga, 2005).
The wide range of proposed possibilities in terms of composition, viscosity and density of LLSVPs convinced us to apply the grain-size-dependent composite-viscosity formulation implemented in the global convection code StagYY for studying the effects on the development of LLSVPs. We study how thermochemical piles behave in the dynamic system of mantle convection using simulations evolving over 4.5 billion years. We investigate whether piles behave as obstacles to convection or whether they get pushed around. Identified average properties of piles give us information about their reaction to different convection regimes. However, we only focus on large-scale processes and quantities as we do not have the resolution necessary to study small-scale features. Instead we provide long-term evolutionary simulations that approximate in a first attempt the influence of grain size evolution on pile behaviour and on general mantle viscosity.
In the current section, we chose to first illustrate the effect of grain size evolution on the dynamics of thermochemical piles mainly using the various convection regimes depicted in simulation number 72. This case is of particular interest as it nicely represents the diversity of processes experienced in all the other simulations: starting in the stagnant-lid regime, experiencing basalt dripping stages, resurfacing episodes and a rather long mobile-lid regime phase (the closest to plate tectonics behaviour of the Earth). Simulation numbers 3, 7 and 73 are also used to illustrate the competing impacts of grain size and temperature on the viscosity in 0D-averages and 1D profiles.
The Results section is divided into four subsections:
Our results demonstrate that thermochemical piles mainly deform in diffusion creep. During downwelling and overturn events, dislocation-creep-accommodated deformation gains importance and can be, but is not necessarily, the dominant deformation mechanism. The spatial distribution of piles depends on the location of subducting slabs and downwelling material. The slightly larger pile grain size compared to the ambient mantle does not lead to stiff features which are able to dominate the dynamics of the lowermost mantle. Once piles are exposed to stress, they are weak features that are swept around the CMB. This behaviour can be explained by the non-Newtonian rheology with which piles deform. Properties of the piles, such as viscosity, strain, work rate, stress or grain size are self-regulating, meaning that after a significant downwelling/resurfacing the values quickly recover to values prior to the event affecting the pile.
Although in our simulations dislocation creep seldom occurs in the lower mantle, we see its association with downwellings. If this information is transferred to the Earth, we can infer that due to continuous subduction there exist more areas under high stress than what we have observed in our simulations. This could potentially lead to more dislocation creep, which in turn could explain long-lasting seismic anisotropy in the lowermost mantle without the need for material layering, crystalline alignment or induced flow fabric.
In our models we find a relatively uniform viscosity in both upper and lower mantles, unless large overturn events occur. The viscosities of hot plumes and thermochemical piles do not differ significantly from ambient mantle viscosity. On the other hand, downgoing slabs display a much larger viscosity, even when reaching the CMB. Overall, our results suggest that viscosity depends more on grain size than on temperature, specifically when constant stress due to downwellings and resurfacing events is present. Our results further demonstrate that the viscosity change over time is considerably smaller in simulations using a grain-size-dependent viscosity than in models employing only an Arrhenius-type viscosity. These findings let us conclude that grain size is important to consider in the viscosity formulation of evolutionary convection models.
The code is available for collaborative studies by request.
AR, PT and JS designed the study. PT developed the code. AR supported JS in setting up the model and in investigating the results. AR coded the grain size evolution routine, the 1D semi-analytical routine and some post-processing routines. JS coded the pile detection and some post-processing routines, made the figures, and wrote the paper draft. AR extended the method section, wrote Sect. 4.5, and provided input and suggestions for the paper draft. PT gave comments and suggestions on the paper draft.
The authors declare that they have no conflict of interest.
Jana Schierjott received funding from the European Union's Horizon 2020 research and innovation programme under the Marie Skłodowska-Curie grant agreement 642029 – ITN CREEP and from SNF (Swiss National Science Foundation) grant 200021-182069. Antoine Rozel and Paul Tackley were funded by ETH Zurich.
This paper was edited by Julien Aubert and reviewed by Bradford Foley and one anonymous referee.
Armann, M. and Tackley, P. J.: Simulating the thermochemical magmatic and tectonic evolution of Venus's mantle and lithosphere: Two-dimensional models, J. Geophys. Res.-Planet., 117, e12003, https://doi.org/10.1029/2012JE004231, 2012. a
Austin, N. J. and Evans, B.: Paleowattmeters: A scaling relation for dynamically recrystallized grain size, Geology, 35, 343–346, 2007. a
Burke, K., Steinberger, B., Torsvik, T. H., and Smethurst, M. A.: Plume generation zones at the margins of large low shear velocity provinces on the core-mantle boundary, Earth Planet. Sc. Lett., 265, 49–60, 2008. a, b, c
Cordier, P., Ungár, T., Zsoldos, L., and Tichy, G.: Dislocation creep in MgSiO3 perovskite at conditions of the Earth's uppermost lower mantle, Nature, 428, 837–840, 2004. a
Dannberg, J., Eilon, Z., Faul, U., Gassmöller, R., Moulik, P., and Myhill, R.: The importance of grain size to mantle dynamics and seismological observations, Geochem. Geophys., 18, 3034–3061, https://doi.org/10.1002/2017GC006944, 2017. a, b, c, d, e, f, g
Davaille, A., Stutzmann, E., Silveira, G., Besse, J., and Courtillot, V.: Convective patterns under the Indo-Atlantic box, Earth Planet. Sc. Lett., 239, 233–252, https://doi.org/10.1016/j.epsl.2005.07.024, 2005. a, b, c
Doornbos, D., Spiliopoulos, S., and Stacey, F.: Seismological properties of D and the structure of a thermal boundary layer, Phys. Earth Planet. In., 41, 225–239, 1986. a
Dziewonski, A. M., Lekic, V., and Romanowicz, B. A.: Mantle anchor structure: an argument for bottom up tectonics, Earth Planet. Sc. Lett., 299, 69–79, 2010. a
Foley, B. J., Bercovici, D., and Landuyt, W.: The conditions for plate tectonics on super-Earths: Inferences from convection models with damage, Earth Planet. Sc. Lett., 331, 281–290, https://doi.org/10.1016/j.epsl.2012.03.028, 2012. a
Frost, H. and Ashby, M.: Deformation-Mechanism Maps: The Plasticity and Creep of Metals and Ceramics, Pergamon Press, Oxford, 1982. a
Garnero, E. and McNamara, A.: Structure and Dynamics of Earth's Lower Mantle, Science, 320, 626–628, 2008. a, b
Garnero, E. J.: Heterogeneity of the lowermost mantle, Ann. Rev. Earth Planet. Sci., 28, 509–537, 2000. a
Garnero, E. J., McNamara, A. K., and Shim, S.-H.: Continent-sized anomalous zones with low seismic velocity at the base of Earth's mantle, Nat. Geosci., 9, 481–489, https://doi.org/10.1038/ngeo2733, 2016. a
Hall, C. and Parmentier, E.: Influence of grain size evolution on convective instability, Geochem. Geophys., 4, 1029, https://doi.org/10.1029/2002GC000308, 2003. a, b, c
Hernlund, J. W. and Houser, C.: On the statistical distribution of seismic velocities in Earth's deep mantle, Earth Planet. Sc. Lett., 265, 423–437, 2008. a
Hernlund, J. W. and Tackley, P. J.: Modeling mantle convection in the spherical recent Advances in Computational Geodynamics: Theory, Numerics and Applications, annulus, Phys. Earth Planet. In., 171, 48–54, https://doi.org/10.1016/j.pepi.2008.07.037, 2008. a, b
Hiraga, T., Tachibana, C., Ohashi, N., and Sano, S.: Grain growth systematics for forsterite ± enstatite aggregates: Effect of lithology on grain size in the upper mantle, Earth Planet. Sc. Lett., 291, 10–20, https://doi.org/10.1016/j.epsl.2009.12.026, 2010. a
Ishii, M. and Tromp, J.: Normal-mode and free-air gravity constraints on lateral variations in velocity and density of Earth's mantle, Science, 285, 1231–1236, 1999. a, b
Ismail-Zadeh, A. and Tackley, P. J.: Computational methods for geodynamics, Cambridge University Press, 2010. a
Karato, S. and Rubie, D.: Toward an experimental study of deep mantle rheology: A new multianvil sample assembly for deformation studies under high pressures and temperatures, J. Geophys. Res., 102, 20111–20122, 1997. a, b
Karato, S.-I.: Grain growth kinetics in olivine aggregates, Tectonophysics, 168, 255–273, 1989. a
Karato, S.-I.: Some remarks on the origin of seismic anisotropy in the D layer, Earth Planets Space, 50, 1019–1028, 1998. a, b
Karato, S.-I.: Rheology of the Earth's mantle: A historical review, Gondwana Res., 18, 17–45, 2010. a
Karato, S. I. and Wu, P.: Rheology of the upper mantle: A synthesis, Science, 260, 771–778, 1993. a
Karato, S.-I., Toriumi, M., and Fujii, T.: Dynamic recrystallization of olivine single crystals during high-temperature creep, Geophys. Res. Lett., 20, 1479–1482, 1993. a
Karato, S.-I., Zhang, S., and Wenk, H.-R.: Superplasticity in Earth's lower mantle: Evidence from Seismic anisotropy and rock physics, Science, 270, 458–461, 1995. a
Kendall, J.-M. and Silver, P. G.: Constraints from seismic anisotropy on the nature of the lowermost mantle, Nature, 381, 409, 1996. a, b
Koelemeijer, P., Ritsema, J., Deuss, A., and van Heijst, H.-J.: SP12RTS: a degree-12 model of shear- and compressional-wave velocity for Earth's mantle, Geophys. J. Int., 204, 1024, https://doi.org/10.1093/gji/ggv481, 2016. a
Korenaga, J.: Firm mantle plumes and the nature of the core-mantle boundary region, Earth Planet. Sc. Lett., 232, 29–37, 2005. a, b
Kuo, B.-Y., Garnero, E. J., and Lay, T.: Tomographic inversion of S-SKS times for shear velocity heterogeneity in D: Degree 12 and hybrid models, J. Geophys. Res.-Sol. Ea., 105, 28139–28157, 2000. a
Lay, T. and Young, C. J.: Analysis of seismic SV waves in the core's penumbra, Geophys. Res. Lett., 18, 1373–1376, 1991. a
Lay, T., Williams, Q., Garnero, E. J., Kellogg, L., and Wysession, M. E.: Seismic wave anisotropy in the D region and its implications, The core-mantle boundary region, 28, 299–318, 1998. a, b
Lekic, V., Cottaar, S., Dziewonski, A., and Romanowicz, B.: Cluster analysis of global lower mantle tomography: A new class of structure and implications for chemical heterogeneity, Earth Planet. Sc. Lett., 357, 68–77, 2012. a
Lourenço, D. L., Rozel, A. B., and Tackley, P. J.: Melting-induced crustal production helps plate tectonics on Earth-like planets, Earth Planet. Sc. Lett., 439, 18–28, https://doi.org/10.1016/j.epsl.2016.01.024, 2016. a
Lourenço, D. L., Rozel, A. B., Gerya, T. V., and Tackley, P. J.: Efficient cooling of rocky planets by intrusive magmatism, Nat. Geosci., 11, 322–327, https://doi.org/10.1038/s41561-018-0094-8, 2018. a, b
Masters, G., Laske, G., Bolton, H., and Dziewonski, A.: The relative behavior of shear velocity, bulk sound speed, and compressional velocity in the mantle: implications for chemical and thermal structure, Earth's deep interior: mineral physics and tomography from the atomic to the global scale, 117, 63–87, 2000. a, b
McNamara, A. and Zhong, S.: Thermochemical structures within a spherical mantle: Superplumes or Piles?, J. Geophys. Res.-Sol. Ea., 109, B07402, https://doi.org/10.1029/2003JB002847, 2004. a, b, c, d
McNamara, A. and Zhong, S.: Thermochemical Structures Beneath Africa and the Pacific Ocean, Nature, 437, 1136–1139, 2005. a, b
McNamara, A. K., Karato, S.-I., and van Keken, P. E.: Localization of dislocation creep in the lower mantle: implications for the origin of seismic anisotropy, Earth Planet. Sc. Lett., 191, 85–99, https://doi.org/10.1016/S0012-821X(01)00405-8, 2001. a, b
McNamara, A. K., Van Keken, P. E., and Karato, S.-I.: Development of anisotropic structure in the Earth's lower mantle by solid-state convection, Nature, 416, 310–314, 2002. a, b
Mulyukova, E. and Bercovici, D.: Formation of lithospheric shear zones: Effect of temperature on two-phase grain damage, Phys. Earth Planet. In., 270, 195–212, 2017. a
Nakagawa, T. and Tackley, P. J.: Influence of combined primordial layering and recycled MORB on the coupled thermal evolution of Earth's mantle and core, Geochem. Geophys. 15, 619–633, https://doi.org/10.1002/2013GC005128, 2014. a, b
Poirier, J., Peyronneau, J., Gesland, J., and Brebec, G.: Viscosity and conductivity of the lower mantle; an experimental study on a MgSiO3 perovskite analogue, KZnF3, Phys. Earth Planet. In., 32, 273–287, https://doi.org/10.1016/0031-9201(83)90131-0, 1983. a
Ranalli, G.: Rheology of the Earth, Chapman and Hall, London, UK, 2 Edn., 1995. a
Ranalli, G. and Fischer, B.: Diffusion creep, dislocation creep, and mantle rheology, Phys. Earth Planet. In., 34, 77–84, 1984. a, b
Ritsema, J., van Heijst, H. J., and Woodhouse, J. H.: Complex shear wave velocity structure imaged beneath Africa and Iceland, Science, 286, 1925–1928, 1999. a
Ritsema, J., Deuss, A., van Heijst, H. J., and Woodhouse, J. H.: S40RTS: a degree-40 shear-velocity model for the mantle from new Rayleigh wave dispersion, teleseismic traveltime and normal-mode splitting function measurements, Geophys. Int., 184, 1223, https://doi.org/10.1111/j.1365-246X.2010.04884.x, 2011. a
Rozel, A. B., Ricard, Y., and Bercovici, D.: A thermodynamically self-consistent damage equation for grain size evolution during dynamic recrystallization, Geophys. J. Int., 184, 719–728, https://doi.org/10.1111/j.1365-246X.2010.04875.x, 2011. a, b, c
Schierjott, J. C.: Data sets used for model 3, 7 and 72 in the paper "On the self-regulating effect of grain size evolution in mantle convection models: Application to thermo-chemical piles", ETH Zürich, https://doi.org/10.3929/ethz-b-000371505, 2019. a
Solomatov, V.: Grain size-dependent viscosity convection and the thermal evolution of the Earth, Earth Planet. Sc. Lett., 191, 203–212, 2001. a, b
Solomatov, V. and Reese, C.: Grain size variations in the Earth's mantle and the evolution of primordial chemical heterogeneities, J. Geophys. Res., 113, B07408, https://doi.org/10.1029/2007JB005319, 2008. a, b
Solomatov, V. S. and Moresi, L.-N.: Stagnant lid convection on Venus, J. Geophys. Res., 101, 4737–4753, 1996. a, b
Solomatov, V. S., El-Khozondar, R., and Tikare, V.: Grain size in the lower mantle: constraints from numerical modeling of grain growth in two-phase systems, Phys. Earth Planet. In., 129, 265–282, https://doi.org/10.1016/S0031-9201(01)00295-3, 2002. a, b
Tackley, P., Ammann, M., Brodholt, J., Dobson, D., and Valencia, D.: Mantle dynamics in super-Earths: Post-perovskite rheology and self-regulation of viscosity, Icarus, 225, 50–61, https://doi.org/10.1016/j.icarus.2013.03.013, 2013. a
Tackley, P. J.: Modelling compressible mantle convection with large viscosity contrasts in a three-dimensional spherical shell using the yin-yang grid, recent Advances in Computational Geodynamics: Theory, Numerics and Applications, Phys. Earth Planet. In., 171, 7–18, https://doi.org/10.1016/j.pepi.2008.08.005, 2008.  a, b
Torsvik, T. H., Smethurst, M. A., Burke, K., and Steinberger, B.: Large igneous provinces generated from the margins of the large low-velocity provinces in the deep mantle, Geophys. J. Int., 167, 1447, https://doi.org/10.1111/j.1365-246X.2006.03158.x, 2006. a, b
Torsvik, T. H., Burke, K., Steinberger, B., Webb, S. J., and Ashwal, L. D.: Diamonds sampled by plumes from the core-mantle boundary, Nature, 466, 352–355, 2010. a, b
Trampert, J., Deschamps, F., Resovsky, J., and Yuen, D.: Probabilistic tomography maps chemical heterogeneities throughout the lower mantle, Science, 306, 853–856, 2004. a, b, c
Warren, J. and Hirth, G.: Grain size sensitive deformation mechanisms in naturally deformed peridotites, Earth Planet. Sc. Lett., 248, 428–450, 2006. a
Weertman, J.: The creep strength of the Earth's mantle, Rev. Geophys., 8, 145–168, 1970. a
Yamazaki, D., Inoue, T., Okamoto, M., and Irifune, T.: Grain growth kinetics of ringwoodite and its implication for rheology of the subducting slab, Earth Planet. Sc. Lett., 236, 871–881, https://doi.org/10.1016/j.epsl.2005.06.005, 2005. a